Do All-Natural & Chemical-Free Cleaning Products Work?
When some people hear the term cleaning products – "all-natural" and "chemical-free" – the first thought that comes to their mind is they are being sold a big fat fad. I don't blame them. We have been conditioned to believe that household cleaning products that work wonders must have harsh chemicals and that natural products hardly ever do the trick.
To answer the question if all-natural, chemical-free cleaners really work, we will take a look at several factors.
Read More: Spray Bottle: Glass Vs Plastic Spray Bottles?
Grab our natural cleaning products subscription here.
Health above all
The definition of all-natural is being or composed of ingredients that are from nature and not artificial. Before the advent of chemical processing, our ancestors relied on nature for their nutritional, medicinal, and cleaning needs. And, yes, their all-natural way of living worked. That says a lot about how, ideally, we ought to live; all-natural and chemical-free.
Before WWI, all-natural soaps were the standard for household cleaners, laundering, and personal care. Human ingenuity created synthetic soaps during WWI as ingredients were not as easy to come by. With the development of machines that wash our clothes for us and do our dishes, these all-natural soaps left behind unwanted residues. The human capacity to create and adapt to new situations gave rise to new forms of laundry soaps (now called detergents) and detergents for washing dishes.
The boom of synthetic laundry detergents led to an array of cleaning products manufactured with artificial, chemical ingredients. At this juncture, questions are arising as to the safety of the chemical ingredients comprising a host of cleaning products (and personal care products as well).
How do you know you are making the right and safe choice of cleaning products for your cleaning business? What is the right choice? Can you trust the data accumulated regarding the chemicals found in cleaning products, or are there hidden agendas to the reporting? That is for you to decide.
A natural cleaner can be an attractive option for your household if you value your health. All-natural cleaning products offer an alternative to the detergents, abrasives, and acids that make up chemical cleaners. Exposure to these elements can be harmful to your health.
Ingredients
Nowadays, consumers have all the answers to all the world's questions at their fingertips. Read the fine print. The devil is in the details. Googling the ingredients will tell you all you need to know if the product really works, or if it's just another marketing ploy.
Make it a habit of checking the ingredients with a magnifying glass. It is all about making informed decisions concerning what you purchase, and what may affect your health and the environment. Honest product manufacturers will be legit and upfront with the info on ingredients.
Buyer beware. Some household cleaners that are made with harmful chemicals may try to sneak past consumers by using hard indecipherable terms on the ingredients label. What's a consumer supposed to do in a situation such as this? One, to make sure that you are purchasing the right cleaning products, look for ones approved by the U.S. Environmental Protection Agency. Two, learn the lingo. Apparently, it's not all Greek. If you are not great at chemistry, just ask Google.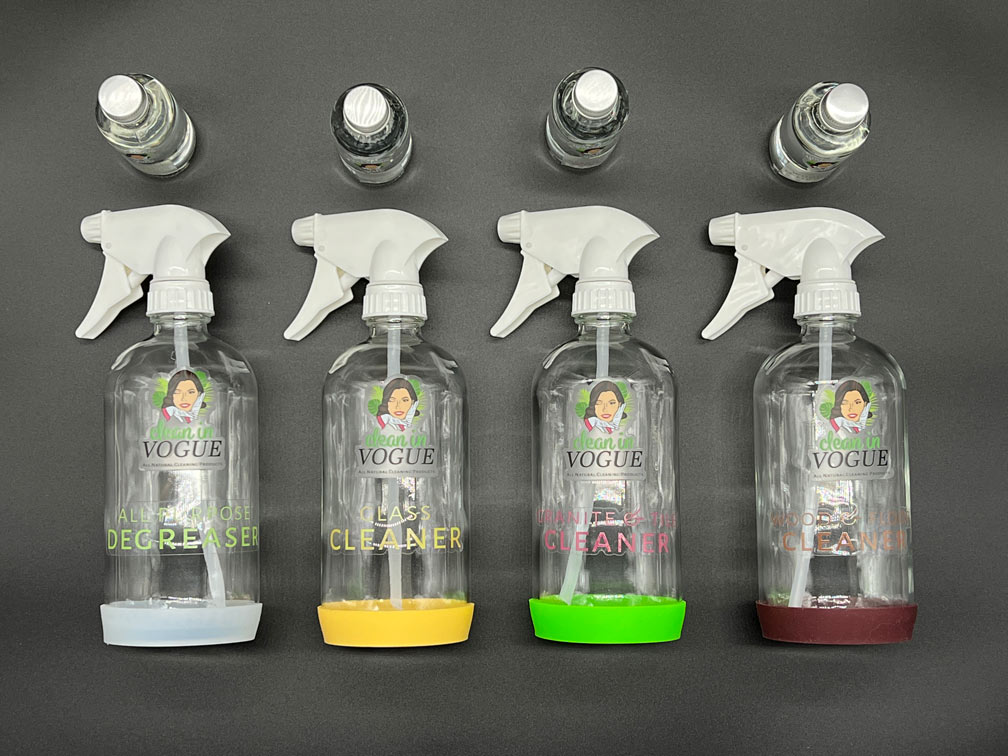 Our truths
With a wide range of chemical cleaners on the market plus the use of multiple cleaners within a day, it is a daunting challenge to pinpoint which particular chemicals pose the most significant toxicity. Many scientists believe they have some answers.
Fingers are being pointed most directly at parabens, phthalates, methylisothiazolinone (synthetic preservative), and petroleum-derived cleaners. These chemicals are predominately found in cleaning sprays and air fresheners, and fragrances in countless cleaning products.
What we know to be true is that our cleaning products are 100% all-natural. None of the chemicals cited as highly toxic are in any of our products.
We know to be true that our cleaning products are not derivatives of petroleum.
We know to be true that our cleaning products are sourced from sustainable ingredients (plant-based).
We know to be true that the fragrance in our cleaning products is made from 100% all-natural essential oils.
We know to be true that the preservatives in our cleaning products are made from 100% all-natural ingredients (tea tree oil- a natural preservative), not from the synthetic preservative methylisothiazolinone; which is found in our "green" competitors' cleaning products.
We know to be true that our cleaning products are safe. Safe for families. Safe for kids. Safe for pets. Safe for the environment.
Effectiveness
As they say, the proof of the pudding is in the eating. You can only know if a product is good, bad, or downright ugly if you put it to the test by using it. When used properly, all-natural cleaners can be just as effective as chemical cleaners.
Tied to the issue of effectiveness is one modus operandi. What are you using the all-natural, chemical-free cleaner for? I mean, using the right tool, for the right job, in the right way is the only way to get the correct or desired result. Are you using the cleaning product the way it is supposed to be used?
Though we are all about using plant-based, all-natural cleaning products that are powerful, effective, and smell amazing, we give our clients tips on getting the best results. When someone compares natural cleaners to chemical cleaners, the primary concern is the effectiveness of natural products. It is essential to understand that the sanitizing and degreasing abilities of a natural disinfectant cleaner depend on its ingredients. Some natural substances are as effective as their chemical counterparts, if not more so.
Ultimately, any all-natural, chemical-free cleaning product from a trusted manufacturer will work if it is used for the right purpose, in the manner that it is specified to be used.
Read the reviews
Don't just believe every word you hear from supposed experts. Even experts get it wrong sometimes. Besides, there are quacks in every field.
Lots of brands claim to be all-natural. However, knowing the difference between products that are truly organic, nontoxic, and better for the environment and those that simply claim to require a level of knowledge that may be difficult to acquire for the average consumer. This goes back to our first point; do your online research.
To back up your knowledge, read product reviews. The world is a global village. You can get all the information you want directly from consumers, by reading the reviews they have left. From the comfort of your living room, without even purchasing a product, you will be able to judge if a product works or not.
From the ratings of the reviews – from one star to five – you can be able to judge what the product is all about, and if what the manufacturer says holds any water at all.
Where to buy cleaners products?
Visit our Clean InVogue product collection store to get your glass spray bottle.
You can also connect with me using this quick links resource or grab your Simple & Clean Budget Friendly Meals: Your 5-Day Plan for more great insights.